Where did you meet?
Pbright is so nice to ask if I can post more screen caps--when I have the time. Funny but I should say these days, I have all the time for this site and hardly any for anything else (chores and husband in total neglect) but I am happiest when I am working on this site. I really like the way the team works out right now. Love your ideas and I am willing to indulge you in any way possible--you seem to be able to pick the right thing out of the wild jumble of thoughts in my mind all the time.
So per popular request--I do keep track of the IMDB message boards still just to make sure I don't miss out on anything new. There are direct links on the left sidebar of this blogpage if you have not noticed yet--just click any of the links to transport you directly to favorite sites.
This is one scene that I've played many times over just to see Ray's reaction when Mrs. Pratt and Mrs. Parker (or Barker?) asked them where they had met. I thought his reaction was more on "I can't believe they are so nosy!" and was so taken aback that he had to scramble for an answer. Pbright says he's about to laugh out loud when he heard them ask them such a prying question. What do you guys think?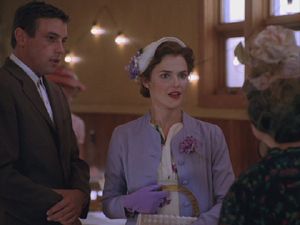 Oops did I catch the right frame?--but you fellow fanatics know what I am talking about