Leaving Ray
The good thing about having house visitors is that I get to subject them to watch THE favorite movie of all time (yes, TMoOD all right) - with me.
I didn't know it would be quite an uncomfortable moment watching the Kiss scene with Mom. It felt like I was watching a rated scene with your parent sitting right next to you. Well, see, the Kiss WAS a very sexy scene in my opinion. I think I've gotten used to watching the movie all by myself that having to see it with someone, like my Mom, was a whole new different viewing experience for me. I'll have to let you know that she did enjoy and liked the movie very much.
But I digress.
Watching the movie in it's entirety (no skipping to favorite scenes, haha), had me thinking hard about the day of Livy's leaving Ray, or more so known as the Ring scene.
I know P&P5 and Chris had both posted an extended story for this scene (read their stories--
Ring-before and after story
,
The Ring
). If you've read this continuing story, I think it's no joke that this could really have occured. I really now firmly believe that there WAS definitely a lapse in time there between the time he gave her the ring and the time she went to fetch the girls by the grain elevators.
Proof? If anyone would agree-- it's in Livy's hair.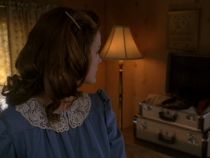 Here's Livy moments before she went downstairs looking for Ray. Notice her hair, all nicely curled at the ends.
Then during Ray's proposal, not as neat but still well kept.
At the grain elevators meeting the girls and the POW. Hair now quite disheveled and tousled. She was in a very happy and upbeat mood even if she had to drive them all the way close to New Mexico. mmmmm, I WONDER why?
And this look (gazing at her ring), I think really means more than she's happy to have finally gotten a ring but also it cleverly implied that she was reminiscing on something that transpired right before she left the house.
And when Ray jumped out of the truck to meet her after she burned the uniform and her locket, he seemed way too eager to come close to her with an uncontainable smile. I think he already knew after she left the house that she wasn't leaving for Denver anymore.
Have I gone completely crazy or what? Sometimes I feel like I am vainly reading in between the lines too much. This is what happens when I don't get much time interacting with fellow tmooders.
Missing you all!