More "Miracles" - Battle at Shadow Ridge
While Evie and Paul share a lunch (I'm thinking from Beantown Burrito and maybe that's Sam Adams in those plastic cups AntEK!), Alva bounds down the steps and announces that he's been notified about "ghost lights" in Virginia.


Evie suddenly seems to be repulsed by her lunch while Paul inquires about ghost lights.
Alva suggests a road trip ~ Evie declines saying that she needs to locate Matty's deadbeat dad before Matty's birthday. So Alva turns to Paul and announces that it will just be the two of them making the 10-hour trip.
Paul expresses his "delight" at the prospect of 10-hours in the "SQV" (jecorbin, 2005) with Alva, but seems resigned to the fact that he needs to go.
Coming next: Alva and Paul in Shadow Valley, Virginia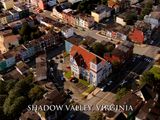 If you recall this episode, we see Evie only one more time in this episode and for about 30 seconds. Any clues as to why Evie is pretty much left out of this episode?