Jetho vs Cousin David
Half and Half or Two thirds for Jethro and One third for Cousin David?
Cousin David arrives and tells of his determination to
strike it rich.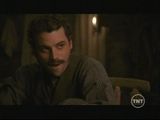 Jethro knows that David has caught the fever!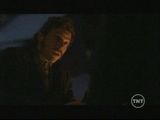 When David wants in, Jethro asks "What can you invest?"
"These."
As Jethro raises his bottle to celebrate their deal, David tries to help himself, too.
Jethro teaches David the tricks of the trade.
David reaches for Jethro's beverage once again. Isn't it enough that Jethro is having a bad hair day? Must he really deal with a cousin who freeloads all the time?
Then the discovery.........
David begins to hoot and holler of their discovery, but despite being
in the bag,
Jethro thinks quickly and they take their discovery home without the others finding out.
"What are you going to do with your half, Jethro?"
"Half?"
"You're family, David so you can have one-third."
David sneaks off in the night with the mother lode and when Jethro follows him, David shoots Jethro. We know the rest of the story from here..........or at least we do if we have cable TV.
So, what do you think gang? Was Jethro justified in wanting to keep more than half of the value of the gold for himself and giving David a "reward"? Or, should Jethro have given David an equal half?