Miracles Episode Four : Little Miss Lost 5/21
Paul's Women: Can't Live with Them, Yet He Attracts Them Like Flies

In this episode we also learn that Paul has begun a search for his biological father. We find him holed up in a dimly lit records office researching public documents. Claudia, the records clerk, immediately endears herself as she snaps on the light and quips "Careful, you keep doing that, you'll go blind" (apparently she's heard about his previous cloistered existence)

Hmmm......sounds frisky for your average public servant - their relationship deserves more scrutiny - could there be an attraction? Let's examine the evidence.......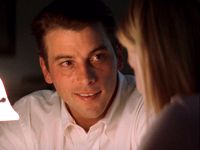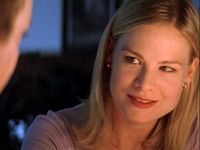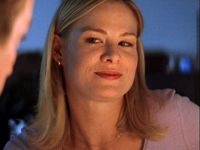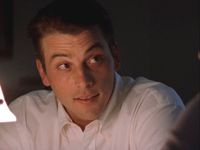 I'm feelin' some heat....... Pondering the loss of her government pension is probably the only thing preventing Claudia from jumping him right there on the desk. Unfortunately, the demands of paranormal research get in the way of yet another opportunity for romance. Claudia vows to make some inquiries to see if she can shake loose some dirt on his father. Paul scoots off to his bus stop and the drama unfolds.

Time passes and Paul receives a call on his cell phone. It's the voluptuous blonde!! Things are all chummy as she refers to him as "Paul" and he calls her "Claudia". Putting her job in jeopardy, she updates him on her progress - someone has answered her inquiry and THAT SOMEONE will be at the records office at the end of the day. Wow! This is too good to be true!! A chance for Paul to see the man who might very well be his father, live and in person!!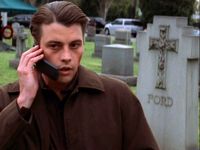 Apparently "Little Miss Lost" is not about to be upstaged by some provocative vixen in a tight sweater and she appears again. Lots of action, Evie takes a bullet for the team, the SQ gang camps out at the hospital, clues are flying and the mystery is just about solved. Unfortunately, Paul misses his opportunity to get to the Boston records office.

Paul eventually makes his way to back to Beantown and stops by to thank Claudia for her efforts. She provides some insight on the person who showed, and announces that the person sealed the file - thus rejecting Paul again. Unfortunately she's now referring to Paul as "Mr. Callan" and appears to be cutting off all contact.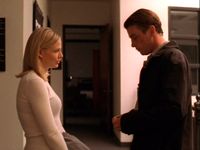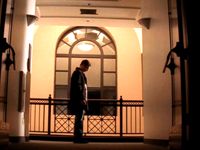 Questions to ponder:
What happened to this budding friendship?
Can Claudia really be done with Paul personally, as well as professionally?
Did she learn something about Paul's father that makes her afraid of the gene pool?
Has someone threatened her?