Episode 5: The Bone Scatterer Discussion #1
The team is contacted by a mysterious caller who says that his dreams of killing people are coming true. The team travels to a remote small town to discover that the victims have been brutally murdered. Paul and Alva meet the caller who turns out to be the unhappy son of the town sheriff and who seems incapable of the crime. The team is stunned to learn the answer to the mystery.
At first viewing, this episode seems to be a study in grisly occurrences and, perhaps, one you spent little time on. The plot is straight forward with no mention of the darkness, Tommy, or good/evil. I think, however, that the episode does offer some areas for discussion that are not immediately evident. Over the next few days I hope to draw you into a discussion of those areas.
To kick off this episode's discussions on a light note, let's take a look at the expressive Skeet as he hears from Angus that in some cultures twins are considered an "abomination." Given that Skeet has his own set of twins, how skillful the neutral reaction! Do you think that there was some joking on the set among cast and crew about Skeet's twins?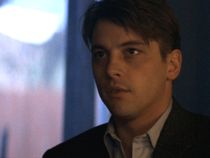 With the melodramatic tone of so many of the scenes in this series, what do you think the "break up" (laughter) factor would have been? How do you think that relations on the set among the 3 actors/the writers/crew might affect the dynamic among the characters? I love the concluding scene in the gym in which Skeet broadly smiles at Angus. The smile seems to me relaxed and genuine.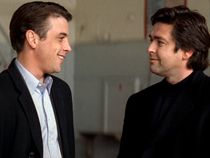 O heck, I'm going to throw in some single shots of Skeet just because he's so photogenic. Enjoy!