Happy 3-Month Anniversary TMOOD!
A Traditional TMoOD way of celebrating is to have a Chocolate Cake (from Mrs. Pratt) and a cold bottle of Co'Cola (Ray's favorite drink)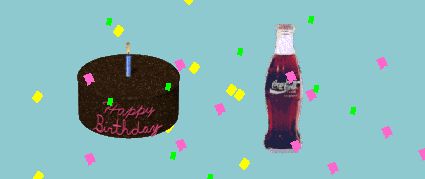 Consider this a temporary station-break from our discussion of Miracles (new question for Ferguson Syndrome coming on Sunday - feel free to keep commenting on the first question, too!)

It was 3 months ago this very day that Hallmark Hall of Fame aired The Magic of Ordinary Days and threw many of us into a TMoOD and Skeet Ulrich tailspin that hasn't stopped yet. We dare say that this site has kept us spinning, somedays right out of control!

As we celebrate this milestone let's reminisce! Think about some of the following:

The show aired on a Sunday night; so how long did it take you to


....do a google search for Skeet Ulrich?
...visit imdb.com for Skeet Ulrich and/or The Magic of Ordinary Days?
...reconcile the picture of Skeet Ulrich at imdb.com with your image of Ray Singleton?
...visit hallmark.com for information on ordering the DVD?
...panic when you learned that hallmark.com was all out of the DVD?
As you fondly recall TMOOD, what would you say is your
....favorite scene?
... favorite character?
... favorite line?
... favorite look/expression from Ray? (okay and for anyone else)