Another Great Catch by a SU Addict
In the
Comment
section under the nightmare scene,
Rosemar
made a great observation that Livy came unprepared for cold weather, having packed only warm weather kinds of clothes (possibly because she didn't plan to stay that long.....). Rosemar supported her observation with the unbelievably keen observation that the sweater Livy wears when the weather does turn cold was hanging in Ray's house when she first arrived.
Skeetrfan
uploaded the screen cap of the sweater as it hangs when Livy surveys the house upon her arrival. This is why I love this site -- there are so many things I
never
would have seen had they not been noted by fellow addicts.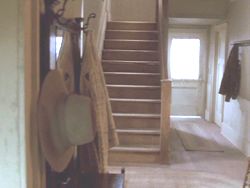 Do you think this was Ray's sweater?????